This is an article I wrote, which appeared in the
March 2017 edition of The St. Augustine Beaches News Journal.
Cyber-criminals have begun to tap into this as an attack vector.
We've all heard about the fake news stories on Facebook and other sites during the past presidential election. Just about every website that you visit has some form of advertisement or "related stories" on it. In many cases the headlines on these ads or stories are written to be very emotionally charged.
The way that these types of news stories play on emotions is powerful. Emotional responses are spur-of-the-moment and often cause us to drop our defenses. We have a "need to know more" response because of the headline… and we click on it to find out more.
Recently I have seen a drastic upswing in the number of clients who have clicked on a link that was politically intriguing and got into trouble quickly after that click. In most of these cases they were surprised that the website showed them a page that informed them they were infected, and needed to call a number for Microsoft Support to "get help". THIS IS A TRICK, NEVER CALL THESE NUMBERS!
Most of the time this happens you can't close the page, and you seem to be trapped. That's part of the trick, you are not trapped, and it is very easy to escape this trap. All you need is a quick keyboard shortcut to get to the Task Manager and shut down the browser.
The keyboard shortcut is to hold down the "Control" & "Alt" keys and hit the "Delete" key while you are holding them.

Then release all keys, and you will see a screen that allows you to click on "Start Task Manager".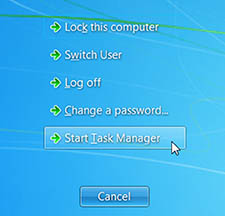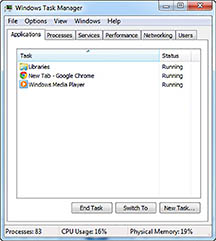 When you see the Task Manager, click on the Applications Tab, and you will see all of your open applications.
Select the browser (Chrome, Firefox, Edge, Internet Explorer, etc) and click "End Task". Then close Task Manager.
Voila!!! You are free of that website. You can now re-open the browser and go about your day.
If you are a Mac user, the keyboard shortcut for "Force Quit" is hold Command & Option, and press the Escape key. Then select the browser, and click Force Quit.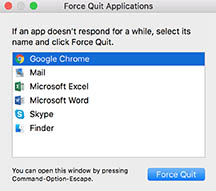 For good measure you should run your Anti-Virus software and run a quick scan to be sure that your computer is not infected in any way.
While growing up my mother often told me that I should count to ten before doing something that was emotionally charged. Like hitting my brother for being a pain… Not that I ever struck any of my brothers, mind you. But the thought often crossed my mind.
Today, I am suggesting that you count to three before clicking on any news story, ESPECIALLY if it strikes a nerve or any emotional chord. During that pause, consider what you will do if you find yourself on a website that is designed to trick you. The bad guys are counting on you to drop your defenses for these tactics.
Steven Aldrich is a technology advisor with decades of experience as an IT Director and is the managing partner at First Coast Business Consultants, LLC. Contact Steven if you need a patient, polite, trusted advisor to come to your business or home and help with your technology.
[email protected] or (904) 479-5661