FCCS is pleased to announce the addition of REMOTE SUPPORT to the list of services offered!
FCCS REMOTE SUPPORT can reduce WAIT-TIME as well as the COST of the service.
The Standard REMOTE SUPPORT call is $49 (45% Discount on a Standard "On-Site" Service call costing $89. ). Please contact Steve via Phone and confirm the time for the Remote Session. You will need to download the SOS App for your device (Windows or Mac) and run it, in order to give Steve your 9 digit code.
The 9 digit code is a ONE TIME USE CODE and remote support access requires that you generate a new code each time you need Remote Support.This ensures your security, as nothing is left behind to allow anyone access after we close the Remote Support session.
How to open the Downloaded file:
When you click the button above for Windows or Macintosh SOS App the file will download. It is a zip file, so you will need to double click it to see the executable file. Then double click the executable file.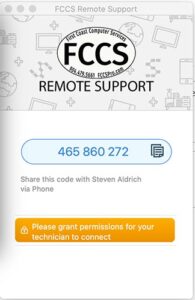 Windows
On Windows the files will open and present you with someting that looks like this:
Macintosh
On you Macintosh, You will first see Sometimng that looks like this, and once you double click on the icon, you will see the same screen as the Windows side sees.